"Le Caméléon" is a multi-dimensional artwork with synchronized light and sound to magify the impact. The ambiance envelopes the viewer. In the foreground, lucite trees stand in various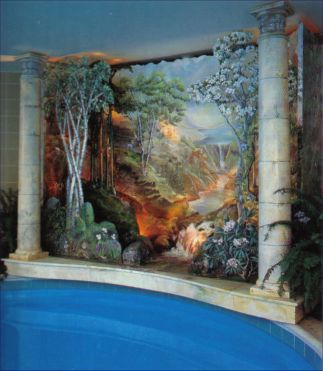 levels of dimension. In the background, scenery is painted on a curving canvas which continues into the base.
"Le Caméléon" can be tailored to reflect any theme, design, setting or size. It is a combination of media. Each piece will be totally self contained. All will feature a programmable compact disc player (to set the mood) and a light controller with memory cues to express the passage of time or to reveal the progression of a story line. The glow of the pinpoint lights heighten the ambience by highlighting textures, details and subjects.
A stand of trees, in full color, will change in a moment to become a dark silhoutte against a brilliant sunset. A castle on a mountaintop glistening in the light of the dawn - will soon be shrouded in misty evening twilight. Various colored lights gently flow from one object to another creating fascinating illusions of magic and mystery.